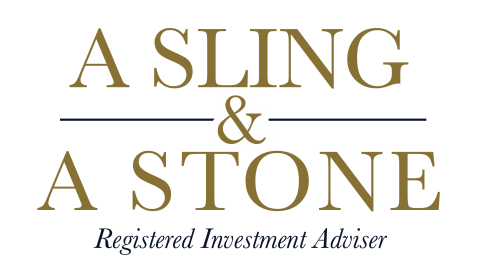 July 2, 2022 by
Matt McCracken
Performance Report: 06/30/2022
By continuing on this page, you agree to the disclosure statements on our disclosure page which can be viewed by clicking here. 
All performance data for our strategies is net of all fees and expenses.  All performance data for indexes or other securities is from sources we believe to be reliable.  All data is as of 06/30/2022.
Investment Strategy
MAP Strategy
S&P 500 Index2
Balanced (AOM)2
Global Balanced2
June Return
(5.8%)
(8.4%)
(4.4%)
(6.2%)
YTD
(1.7%)
(20.6%)
(13.5%)
(15.8%)
Since Inception1
30.6%
28.5%
8.5%
15.5%
For a more detailed reporting of our MAP Strategy's performance and its risk characteristics, click here.
There is no sugar-coating it, June was a really tough month which wrapped up a rather disappointing quarter.  For the year and since inception, we are still far ahead of just about any benchmark or model portfolio available, but I am terribly frustrated after giving up our strong YTD gains from Q1.  
While my MAP system does a remarkable job of identifying low-risk entry points, it does require securities to appreciate to make money.  And in June, everything, in every corner of the capital markets, declined.  In my 25 years of experience in this industry, I have never experienced a period that would be analogous to the past few months.  Oct/Nov of 2008 would be closest but even then US treasuries appreciated.  The following table illustrates just how widespread the carnage has been (Highlighted securities are ones in which we have had significant exposure to this year.)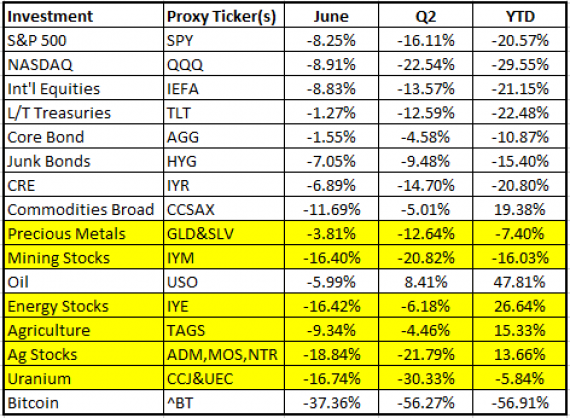 The price destruction from top to bottom has been extensive.  The headlines are telling us the S&P 500 had its worst first half of the year since 1970, the DOW since 1962.  MSFT had its worst quarter since 9/11/2001.  ARKK, the quintessential FOMO trade during the pandemic, is down 75% from its peak.  And speaking of FOMO trades, Bitcoin just had its worst quarter ever.  And we had stayed clear of these areas of the market to focus on alternatives.  And these alternatives had done exceedingly well in Q1 but then gave back much of their gains in Q2.
At moments like these, there are a few things I remind myself of that help me keep my focus.
1)  We have had significant drawdowns in each of the past two years and ended both years with nice gains.  In 2020, the drawdown lasted three months and was not quite as deep as the current one we are experiencing.  In 2021, my drawdown lasted seven months and was a little deeper than this one.  I am learning the MAP system generates gains in "fits and starts".   Granted, June was the worst month for our strategy since its inception but we have had others that were in the ballpark and we bounced back.  
2) At some point, something will start going up.  I have gone to great lengths to ensure we have a truly diversified set of securities.  I do not need the stock market to appreciate for your accounts to make money, as we saw in Q1.   For the sake of other investors, I hope the stock market finds its footing sometime soon but I am not banking on it.  We have a considerable number of securities that historically have not exhibited a statistically significant correlation to US equity markets.  I am confident that if they start to appreciate, the MAP will identify some low-risk entry points.  I am currently doing some additional backtesting for the MAP and I'm reminded of how it discovered buys at the lows in 2003 and 2009.
3)   The backtesting for the MAP system performed very well during the Tech Wreck and the Financial Crisis not to mention its superior performance during the Covid Crash.  The only time the MAP really suffered was July through September in 2008.  Even backtesting tech stocks during the Tech Wreck showed profits.  So over the past 25 years of backtesting and real-time trading, there has only been a few brief periods of poor performance.    
As I stated above, I am frustrated with our losses this past quarter.  But I realize I didn't have anything to work with and I take a little bit of solace in that fact.  As you all know, my funds are invested right along with your funds and my fees go up and down with your account values.  My financial future is inextricably linked to yours.  We are as married as a money manager and client can be.  So with that said, I am truly confident that if I stay the course, we'll all benefit handsomely.   
As always, please do not hesitate to call me at 512-553-5151 if I can be of assistance. 
Best,
Matt McCracken   
1) Inception date of 4/30/2019
2) All benchmark prices are obtained through the Yahoo!Finance website.  S&P 500 Index is calculated using the index price.  AOM is the iShares Core Moderate Allocation ETF.  Global Balanced is calculated using a 40% allocation to SPY, 40% allocation to BND and a 20% allocation to IEFA.